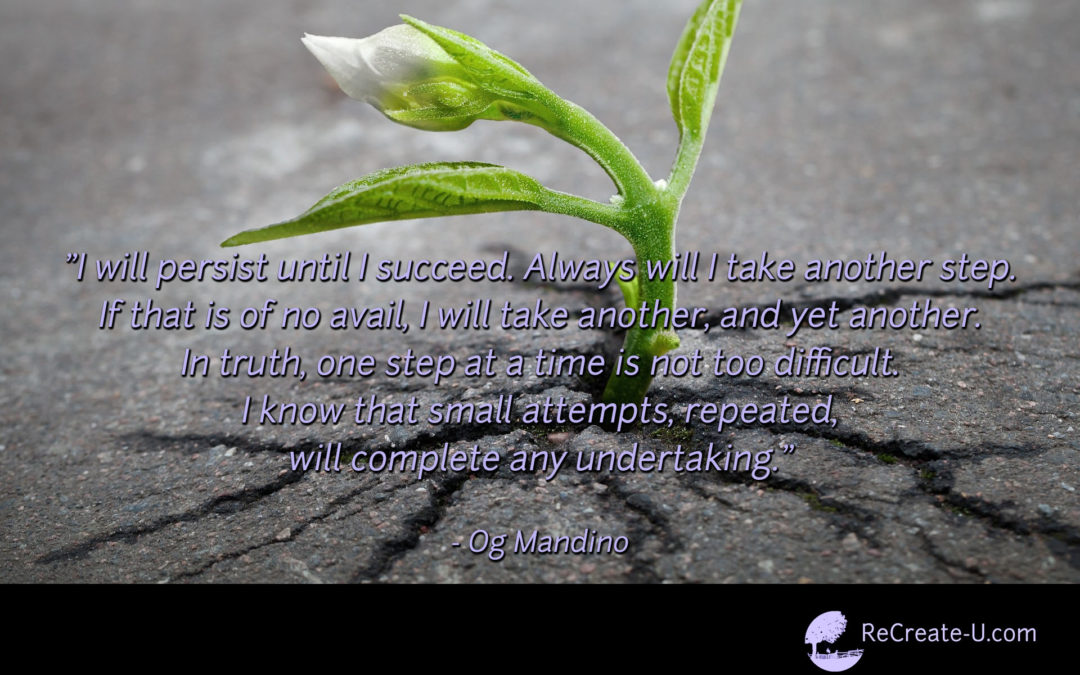 As described in the dictionary, TENACITY means to have the quality or fact of being very determined; determination. The quality or fact of continuing to have the strength to exist; persistence. TENACITY is the quality displayed by someone who just won't quit — who keeps trying until they reach their goal.
Tenacity's synonyms are persistence, determination, perseverance, doggedness, strength of purpose, tirelessness, indefatigability, resolution, resoluteness, resolve, firmness, patience, purposefulness, staunchness, steadfastness, staying power, endurance, stamina, stubbornness, intransigence, obstinacy, obduracy, pertinacity.
Growing up, I was often called stubborn and bull-headed. I prefer to think I am tenacious and strong-willed and these two traits have served me well; especially in times of difficulty.
When it comes to setting goals, identifying your purpose and striving towards reaching your full potential, no other behavior will help U continue to move in the direction U seek, than being tenacious in everything U do!
IF YOU REMEMBER ONLY ONE THING PRESENTED IN THIS SERIES, REMEMBER THE POWER OF BEING TENACIOUS:
U can identify your strengths and weaknesses and look within to help U find your life's purpose,
U can become motivated and inspired,
U can set goals,
U can take action,
U can be aware of and prepare yourself for pitfalls and setbacks in life,
U can learn to accept your mistakes and forgive yourself,
U can eliminate negative thought patterns and think and act more positively,
U can enlist friends and family for support,
U can find success and
U can have the courage to begin again when U fail.
IN FACT, U CAN DO EVERYTHING ON THIS LIST AND NEVER REACH YOUR GOALS AND LIVE FULLY. IF U DO NOT REMAIN TENACIOUS IN YOUR APPROACH AND U DO NOT HAVE THE STAYING POWER, LIFE WILL GET THE BEST OF U. IF YOU DO NOT CONSISTENTLY FOLLOW THROUGH WITH THE STEPS PRESENTED IN THIS PROGRAM AGAIN AND AGAIN, LIFE WILL GET THE BEST OF U. IF YOU DO NOT REMAIN STEADFAST IN THE MIDST OF DIFFICULTIES, LIFE WILL GET THE BEST OF U. IF U DO NOT HAVE THE WILLINGNESS TO ENDURE, LIFE WILL GET THE BEST OF U.
LIVE A PURPOSE AND INTENTION-FILLED LIFE AND NEVER, EVER GIVE UP!
"The most difficult decision is to act; the rest is merely tenacity." – Amelia Earhart

"Never confuse a single defeat with a final defeat." – F. Scott Fitzgerald

"Through perseverance many people win success out of what seemed destined to be certain failure." – Benjamin Disraeli

"Very few individuals have the tenacity and the love to propel them beyond everything they know and can trust to face the unknown, let alone be absorbed in it." – Frederick Lenz